Death Must Die Does It Run On Steam?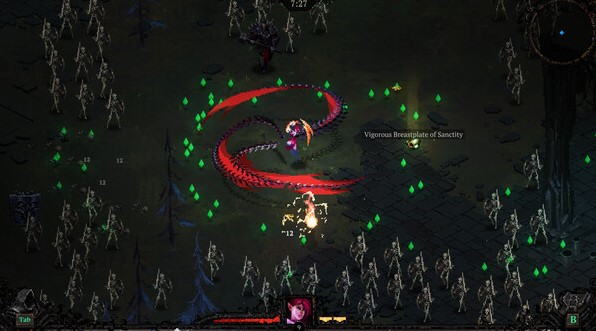 Death Must Die, is a game that's not just an RPG but an action-packed delightful mix of Casual, Action, and indie goodness from the talented developers at Realm Archive. It made its debut on the Steam Store on November 14th,2023, and is ready to sweep you off your feet with a blend of casual gameplay, a touch of difficulty, and roguelite mechanics that keep you coming back for more.
The cool part is you can dive into this adventure whether you're on a Windows or Mac system. As you explore the game, you'll find a trio of warriors to choose from and a promise of even more creative additions to come – enemies and six gods and goddesses ready to spice things up.
Now, Death Must Die is part of Steam's Early Access lineup, a space where players get to experience the game's evolving journey while developers like Realm Archive gather valuable feedback for fine-tuning before the big 1.0 release.
This week, Death Must Die steps into the spotlight as a Survivor-like game, drawing inspiration from the likes of Vampire Survivors, Dark Souls, and Hades. The dark fantasy design, reminiscent of FromSoftware's Dark Souls series, sets it apart in a sea of roguelikes.
Death Must Die Does It Run On Steam?
In Death Must Die, you'll be on a mission to take down Death himself, but before that epic showdown, you'll have to prove your mettle by battling through endless waves of enemies. But the good part is you get divine boons from gods that lend a helping hand in this perilous journey.
It's a challenging yet addictively engaging loop that keeps players hooked. And let's talk about what makes Death Must Die unique and the answer is those assisting deities. These divine beings provide blessings that can seriously tip the scales in your favor, enhancing your dash or adding elemental powers to your attacks.
But here's the scoop for all you Steam Deck enthusiasts, you'll be thrilled to know that Death Must Die works smoothly on Steam Deck. That means you can enjoy this gem on Valve's handheld PC with smooth performance, flawless controls, and easy readability on the smaller screen. The game is rolled out now as early access. And the developers are akin to taking up feedback about the gaming mechanics and fans' needfuls. This game has proved its worth among the roguelike kings all it's awaiting is your hands and eyes on.