Lords Of The Fallen- Vengeful Reflection Trophy/Achievement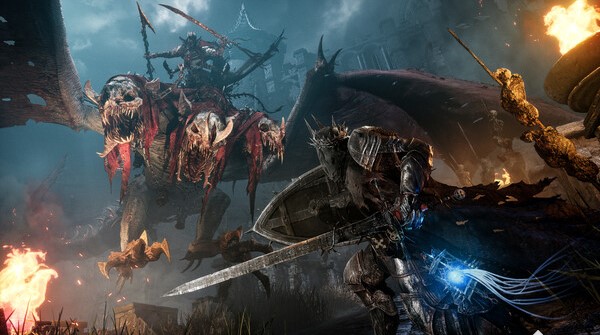 In Lords Of The Fallen, there are many tedious steps that you need to complete in order to get the Vengeful Reflection Trophy/Achievement. While progressing through the story, you will find multiple doors that do not budge and require specific key items to unlock. Similarly, each Stigma tells you a story and we are looking for the footprints left behind by the Paladin Isaac. Here's what you need to do!
"Vengeful Reflection" Trophy/Achievement Guide For Lords Of The Fallen
Warp to the Vestige Of Ranik in Defiled Sepulchre to get Flayed Skin. After defeating the first boss, you will find a diverging path. Take the right route and go forward in the Umbral realm to discover a gate that cannot be budged. Near the gate, you will find the Flayed Skin.
Progress through the game or Warp at Vestige Of Sebastian in the Lower Calrath Depot. Descend down the stairs and enter the Umbral realm to cross the broken bridge to interact with the Stigma near it.
Next, Warp to the Vestige Of Svornil in the Fief Of The Chill Curse. Enter the Umbral Realm and interact with the Stigma to reveal the story. Then warp to the Vestige Of Loash next located in The Crow's Nest. Advance forward and defeat "The Hollow Crow". On your way, you will encounter "The Lightreaper". Instead of defeating the boss, you can die and respawn back to progress again. This time, you can easily walk past the ground and make sure you Soulflay the stigma i.e. found on the slope ahead where you battled "The Lightreaper".
Warp to the Vestige Of Dieter in the Path Of Devotion Memorial. Enter the Umbral realm and walk towards the cliff where you can find the Stigma to Soulflay. After learning the story, move forward i.e. descend down the slope, and at the end of the road, you can soulflay the bridge to extend and enter the battlefield. Defeat the "Paladin's Burden".
Once you defeat Paladin's Burden, you will obtain a key item i.e. Umbral-Tinged Flayed Skin. This item can be used to open the door where you got the Flayed Skin in Defiled Sepulchre close to Vestige of Ranik. You can now obtain Paladin Isaac's  complete gear set that includes:
Paladin Isaac's Sword
Paladin Gauntlets
Paladin Armour
Paladin Helm
Paladin Leggings
Finally, at Upper Calrath, you will find the boss i.e. "The Lightreaper" again. You will be required to use a summon or seek assistance from Paladin Isaac for this fight in order to get the achievement. Once you have defeated the Lightreaper, you will unlock the Dark Crusader Class.
For more informative guides on Lords Of The Fallen, click on the link that has been mentioned below the description: