Lords Of The Fallen- How To Farm Deraliums To Upgrade Weapons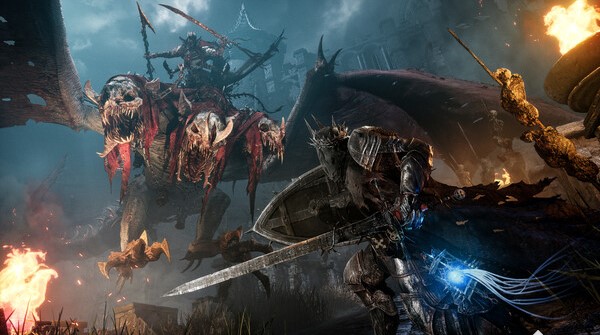 Lords Of The Fallen is a souls-like game where we can swap between the two realms i.e. living and dead to explore and unlock the pathways. Much like any other Souls game, players can customize their own build and try to empower their class. Countless weapons and shields can be upgraded if plenty of material i.e. Deralium is in your possession. Fortunately, there are multiple ways to get the ores that also includes purchasing them from a specific vendor. What route do you want to take in order to farm Vigor and Deralium in order to upgrade the weapons to max?
How To Get Deraliums To Upgrade Weapons In Lords Of The Fallen
You will be able to purchase the ores i.e. Small Deralium Fragment, and Regular Deralium Nuggets from the vendor named "Thehk-Ihir". The vendor can be found in Skyrest, so you will have access to the shop to purchase 10 each of these Deralium ores for 500 and 800 Vigors respectively.
Apart from purchasing, you have a chance to obtain these Deralium ores from the chest or in the ground loot when you explore certain areas. The enemies have a chance to drop random loots, however, it has been noticed that certain enemies drop specific loots more often.
Speaking of Deralium, there are certain areas where we can farm enemies to obtain Deraliums which will be used in upgrading your weapons. Instead of relying on luck, you can farm the Deraliums in specific areas where the enemies drop them consistently. Use Lucky Paw for more consistent drops
Where To Farm Deraliums?
Warp to the Vestige Of Valade, and enter the Umbral Realm. You will be now able to climb the ladder which should have been invisible in the realm of living. Proceed ahead after killing everyone and farm the small, regular, and large Deraliums on the route to the Vestige of Olleren.
Large Deralium Shards Farming
Specifically, for Large Deralium Shards, you can warp to Vestige of Lydia the Numb Witch in Lower Calrath Alehouse and proceed ahead to where you can find the burning tree i.e. surrounded by houses that are ablaze. Activate the Vestige Seedling to reset the spawn and kill the elite monster who wields a shield and an axe (Ruiner) near the burning tree. Every time he will drop a Large Deralium Shards.
For more informative guides on Lords Of The Fallen, click on the link that has been mentioned below the description: