Stray- Digicode To Leave The Flat/Apartment After Meeting B-12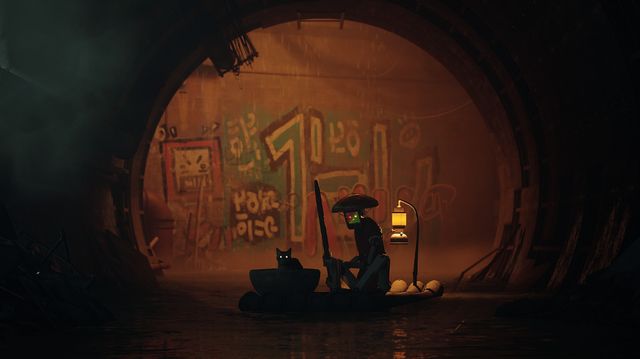 Stray, developed by BlueTwelve Studio and released on 19th July 2022 is a third-person adventure game where we are in the shoes of a lone cat who's lost in a cyberpunk world with only robots and find their way home uncovering various mysteries along the way in this dystopian world.
Its compelling storyline and interesting narrative are very engaging. Stray takes adventuring to a new height as we see the world from the pov of a completely normal cat who just has more awareness than a normal one while venturing through the streets and climbing on buildings.
Digicode To Leave The Flat/Apartment In Stray
Once you complete the computer puzzle and activate the system, you will obtain a special companion in the journey to the "Outside". However, to continue your journey, you will need to open the door of the flat/apartment that requires 4 digit code.
To find the code you need to go to the storage room i.e. next to the locked door. Illuminate the room using B-12's flashlight for a clear view. Climb up to the table opposite of Piano and start tumbling things down from the shelf. You can see the code which was initially hidden behind the miscellaneous that blocked the complete view of the portrait. The code is "3748" that you need to enter in order to open the door.
For more guides on Stray, click on the link that has been mentioned below the description: