Cuphead the delicious last course 9 HP Cheat & How To Solve Graveyard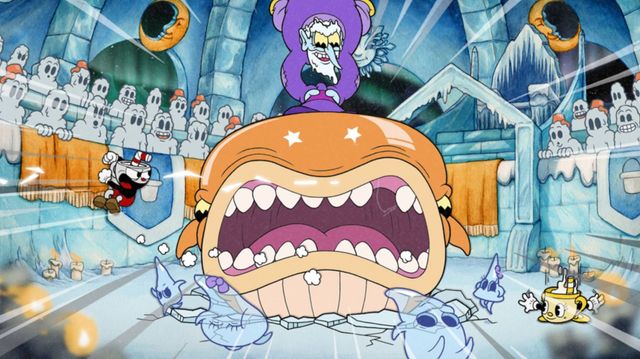 Cuphead The Delicious Last Course is one of the DLC that has been released yesterday with a new island, bosses, and items. There is also a puzzle to unlock the secret boss that will turn your broken relic into the cursed relic. You can also get up to 9 HP to defeat the bosses easily. Below you will find where to find the twin heart relic, activate the 9 HP cheat, and solve the graveyard puzzle.
Cuphead The Delicious Last Course How To Get Twin Heart
To obtain the twin hearts players need to visit the new DLC island and visit the Porkrind's Emporium shop. There you can buy the twin heart charm in exchange for 5 gold coins. Using this charm you will gain two additional hit points but your attack damage will be reduced.
Cuphead The Delicious Last Course 9 HP Cheat
To activate the 9 HP cheat players need to equip the twin hearts charms. Once you equip it you just need to spin your character for a few seconds. You can either press the arrow keys in a clockwise or anticlockwise manner or rotate the joystick of your controller.
Upon successfully doing the above task, the game Djimmi will appear and grant your wish for more Hitpoints. After defeating any one boss your hit points will revert back to normal and you need to activate the cheat again to get 9 hitpoints.
Cuphead The Delicious Last Course How To Solve Graveyard Puzzle
To solve the graveyard puzzle, players need to interact with the three NPCs standing on the podium near the Porkrind's Emporium shop. Interact with all three characters to gain clues from them. Once you get all the clues you can head over to the graveyard at the bottom of the map and interact with three gravestones to unlock the secret boss.
While interacting with the NPC from the podium you need to look out for the words like upright, left, downright, and much more. The NPC standing on the first podium will give you the first hint. Similarly, you need to solve the second and third hints and interact with the gravestone in a similar manner.
How To Get Hearty Achievement Bug Solution
To get the hearty achievement all you need to do is equip the twin heart charm and spin around in circles. If you have followed the guide above and got 9 HP then you just need to defeat a boss.
But even after defeating the boss, you are not getting the achievement, you can enter the King Dice level, lose an HP and gain again using parry on the dice. Defeat the boss you and will unlock the achievement.