My Time At Sandrock Gift Guide, Romance Characters & Fang Gifts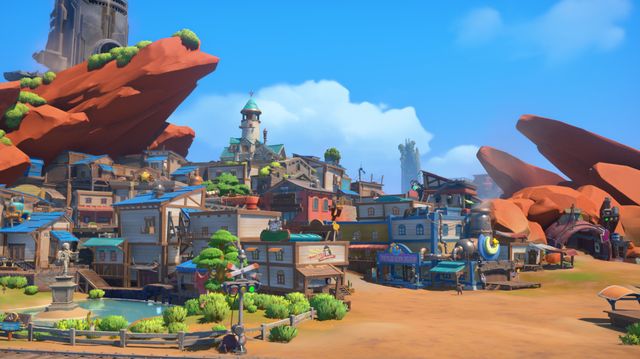 My time At Sandrock is similar to the game My time at Portia but with extra features. One of the features that players loved in both games is the romance option with other characters. You could craft various items and gift other NPCs to increase your relationship with them. Choosing the right gift is important as this will increase the relationship faster. Below you will find the names of the characters and the correct gift to give them.
My Time At Sandrock Romance Characters & Gift guide
Below, I have listed characters who can do romance in My Time at Sandrock:
Amirah (bachelorette) – She is Arvio's sister and the owner and operator of Ceramic Gate, a ceramic shop. Amirah loves Rustic Dining Tables and Sandgear. Along with this, Amirah also likes Ceramic Plates, Sunscreen, Facial Cream, Silk Scarf, Bloodstone, Fluorite, and Bronze Pickhammer.
Arvio (bachelor) – Arvio is Amirah's brother. He owns and runs a general store named "By The Stairs". Arvio likes Ceramic bottles and Bronze pickhammer. He loves gold and water.
Catori (bachelorette) – Catori is the owner of the Golden Goose arcade in Sandrock, as well as the Catori's museum. Sunscreen, Bronze Pickhammers, Facial Cream, Curling Iron, Hair Drier, Sandgear, and a crafted pencil holder are the gifts she likes.
Elsie (bachelorette) – Elsie likes gifts such as ⁠Bronze Pickhammers, Sandworms⁠, ⁠and Water. She loves Cat house and Basic Sandfish Trap.
Grace (bachelorette) – Grace work as a cook at the Blue Moon Saloon restaurant. Grace like gifts such as Engine and ⁠Power Stones, Water, Data Discs, Bronze Pickhammer, and Silk Scarf.
Heidi (bachelorette) – Heidi runs Construction Junction, a place where you can customize your workshop. Water, Bronze Plates, Bronze Pickhammers, Bronze Axes, Wooden Storage Boxes, and ⁠Yakmel Horn Bracelet are things she likes and like the most.
Justice (bachelor) – Bronze Pickhammers, Water, Yakmel Horn Bracelet, and Hemostat are the items Justice likes.
Mi-an (bachelorette) – Mi-an is the other new builder in town, and the first person players encounter in the My Time at Sandrock game. Plates, axes, and pick hammers are the things she like most.
Owen (bachelor) – Owen is the owner of a Saloon and he likes to get water as a gift as well as ceramic
Qi (bachelor) – Qi is in charge of the local research station. A local research station is a place where players can learn how to create new crafting stations such as the My Time at Sandrock Recycler. Players can give him Power Stones and Engines to get as he loves these things. Data Discs and Water are two more things he likes.
Unsuur (bachelor) – Unsuur is a member of the Civil Corps and he likes to get Iron Swords and Shields and Bronze Pickhammers as presents.
Fang (bachelor) – In My Time at Sandrock, Fang is the town doctor. For some reason currently, players are not able to gift Fang. There might be some issue in the game, or the developers have the character this way. The only way to increase romance with Fang is by talking with him daily.