Forza Horizon 5 Unlock Goliath & All 14 Barn Location To Unlock Cars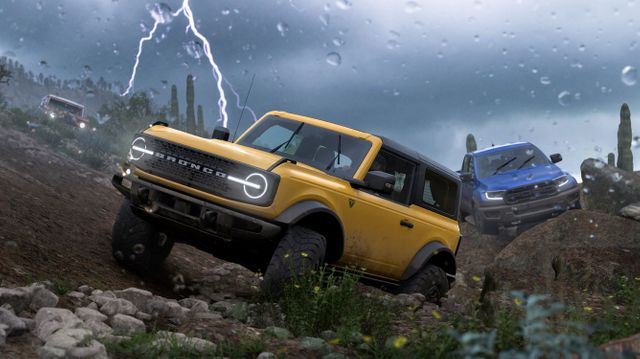 Forza Horizon 5 is an open-world multiplayer racing game developed by Playground Games. To obtain a huge number of XP and credits you need to unlock the Goliath Race. Apart from that, you will also find 14 barns scattered across the map where you will find old cars that are turned into junk. You need to find these cars and repair them to add them to your collection. Below you will find how to unlock the Goliath race and find all 14 barns.
Forza Horizon 5 How To Unlock Goliath Race
The goliath race is the final race of the main stage event of Horizon Festival Mexico. To unlock the goliath race, you need to complete various events and accumulate accolades. Once you have 3 accolades, you can unlock the goliath race that will start from the east side of the map. This is the biggest track race you will find in this game and you can obtain a lot of XP and credits by completing it. There is also a trick to afk race without any drivatars where you can set the lap according to your afk run. Check out our previous guide on how to afk run goliath race to obtain unlimited XP and credits.
Forza Horizon 5 How To Find The Barns
To easily find the barns all you need to do is drive your car towards the purple circle and open your menu. In the menu go to the creative hub option and there you will find a drone mode. Once you select the drone mode, you will be able to control a drone and scout the area around the car. Finding a barn this way from the air can be quite easy and once you find the barn, the purple circle will disappear and you now have the exact location of the barn. The list of cars that you can find from the barn are:
1973 BMW Turbo
1999 Dodge Viper GTS ACR
1968 Dodge Dart Hemi Super Stock
1968 Ford Mustang
1967 Ford Racing Escort MK1
1956 Ford F-100
1970 GMC Jimmy
1991 Jaguar Sport XJR-15
1973 Porsche 911 Carrera RS
1968 Renault 4L Export
Toyota T100 Baja Truck
1953 Chevrolet Corvette
1959 Ferrari F40 Competizione
1962 Ferrari 250 GTO
Forza Horizon 5 All Barn Location
There are 14 barns located on the map that you need to find and obtain the cars. Below you will find the location of these barns.