Surgeon Simulator 2 Exploratory Surgery How To Get Intestine For Surgery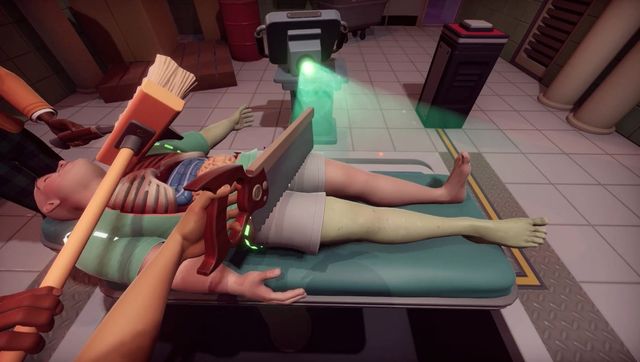 Surgeon Simulator 2 is a physics-based surgery sim game developed by Bossa Studios. The exploratory surgery is the 5th stage of the main story quest and in this stage, you will learn a few secrets about the Bossa Labs. Who all started the Bossa Lab and how did it affect the friendship between Pam and Josh Badamosi.
In this stage you need to perform two surgery while both of them are easy ones, to get equipment and a healthy organ for the second surgery you need to explore and find things. Below you will find the guide to how to easily complete the stage successfully.
Surgeon Simulator 2 Exploratory Surgery Walkthrough
The first surgery will be very easy as you just have to replace the unhealthy hand. After that go through the door on the left and keep progressing. While going for the next surgery the door will be locked and you have to go through the vents and jump down.
There you need to fix two fuses and pull the levers to open the door. Keep going forward and you will come across a room where you need to put the fuse, pull the lever and rotate the wheel anti-clockwise to open the door on the floor. The fuse in that room will be on the table, once the floor door is open, jump down and keep following the path.
After that you will have two-way, on the right side you will find a room with a skeleton that can be a bit spooky but you don't have to go that way. You need to go left crouch and go through the vents to reach the next surgery room.
Surgeon Simulator 2 How To Get Small & Large Intestine
There under the stairs, you will find the fuse box and many fuses lying around. On the first floor room, you will find all the tools required for surgery and the diagnostic scanner. In that room inside the locker, you will find the blood injectors. Once you put the fuse in the fuse box, the switch will start working and the patient will come out.
You need to replace the unhealthy small and large intestine. In that room at the end you will find a locked door and beside it will be a switch. When you activated the fuse box the switch will also get activate and pressing that will unlock the door on the right side. From there you can get healthy organs.
There will be two-lever, one will move the belt forward while another one will activate the wall and get you the healthy organs. Move the belts to get the required healthy organs and perform the surgery. You need to use the scalpel that can be found on the first-floor room where you got the diagnostic scanner that will help you remove the unhealthy organs without losing much blood.
Heartbroken How To Get The Healthy Heart
Build A Better Bob Open Door To Get Healthy Hands
Locked Out Walkthrough Replace Unhealthy Intestine