Wasteland 3- Golden Toaster Part Locations For A Fire Spitting Companion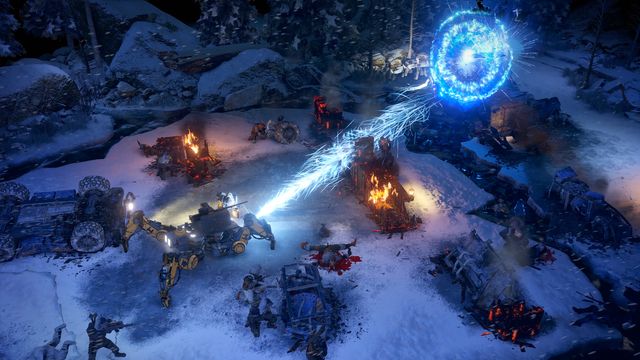 In Wasteland 3, there are companions who help us out during battles and somehow repairing Toasters throughout the map plays a big role to gain a valuable Golden Toaster companion. Golden Toaster spits fiery fire to burn down the targets and to assemble it, you will need all the five parts of it. So, apparently repairing Toaster will give you loots as well as an animal companion.
Golden Toaster Part Locations For A Fire Spitting Companion In Wasteland 3
To make a Golden Toaster animal companion, you will need 5 important parts from a Toaster and a Golden Hammer. These locations are mentioned below:
Golden Toaster Parts
Gold Insulated Power Cord can be obtained from a Toaster when you go left instead of right to the church in Broadmoor Heights. The Wesson's family home kitchen is where you find a Golden Toaster's first part.
Molded Gold Toaster Case can be obtained inside the Hoon's residence in Hoon Homestead. You can obtain it while completing Heads Or Tail's mission after choosing Hoon Homestead or later coming back to the location while the family is dead.
Gold Infused Mica Sheeting can be obtained once you enter the Paint Mines and leave Kodiak. After advancing ahead for a short while, you will see a small alley going to the left which you can sneak through and open the Toaster.
Gold Plated Nichrome Wire can be obtained in Aspen after you cross Opie and make your way through the last room.
Bi-Mettalic Gold Alloy Filament can be obtained from the Toaster found after climbing the ladder in the Knox Bison Ranch where Giant Bisons are kept.
After collecting all the five parts of the Toaster, you will obtain an item Golden Toaster after assembling it. However, it is not the end. You will need to go to the location where Toaster Repair Academy is situated after getting into the Kodiak.
Note: Collect Gold Plated Hammer before entering Toaster Repair Academy.
Gold Pated Hammer
Little Hell- In the Little Hell in Aspen, you will find a Gold Plated Hammer inside a vault. Either having a vault key or Lockpicking Skill lvl 10 will let you have the Golden Hammer.
Once you have unlocked the Toaster Repair Academy after the marvelous display of Toaster repairing and golden toaster parts assembly, travel to the location. Inside the academy, you will find a Verchitin armor set and obtain a Golden Toaster animal companion, Courageous.
For more guides on Wasteland 3, click on the following links that have been mentioned below the description: